First Class Legal last week became the first legal firm in Melbourne to complete a property settlement electronically through the new national PEXA system.
PEXA is an electronic settlement exchange for property, and is owned by the State governments and the major banks. It is the long overdue new national system for property settlements and is in many ways state of the art worldwide.
This milestone transaction cements First Class Legal at the forefront of the industry and reinforces its leadership position for innovation, quality and foresight.
Below is the press release from PEXA and First Class Legal.
Andrew Jarrett, Managing Director, First Class Legal
"First Class Legal today became the first legal company in Melbourne to conduct an electronic property settlement transaction through PEXA.
We are delighted to embrace the new technological benefits offered with PEXA's electronic settlements.
We pride ourselves on being in a leadership position in the market, and see PEXA as a fantastic innovation and step forward in terms of the way property transactions are settled in Australia.
PEXA is the future, and for First Class Legal and our clients that future has arrived today."
Marcus Price, CEO, PEXA
"PEXA is delighted to have have worked with First Class Legal over many months culminating today in the completion of their first electronic property settlement using PEXA.
This is a milestone transaction for PEXA in the Melbourne market, as First Class Legal has become the first legal company in Melbourne to have conducted a property settlement through PEXA.
PEXA congratulate First Class Legal on their vision, innovation and leadership in this market.
We look forward to more legal companies embracing PEXA in the weeks and months ahead in Melbourne and around Australia."
Andrew Skim, Executive Manager – Practioner Services, PEXA
"I am delighted to have worked with First Class Legal over the last few months in preparation for this PEXA transaction.
First Class Legal were keen to be among the earliest of adopters of PEXA and allocated dedicated resources to get the first transaction through.
I'd like to congratulate the principals Andrew and Leonie Jarrett, Karen Outhred and the rest of the First Class Legal team in being such enthusiastic early adopters of PEXA in Melbourne."
First Class Legal have offices in Frankston, Greensborough and Cranbourne.
Above (from left to right): First Class Legal, Principal – Leonie Jarrett; First Class Legal, Director of Conveyancing – Karen Outhred; Ash Marton Real Estate, Director – Ash Marton; PEXA, Executive Manager- Andrew Skim.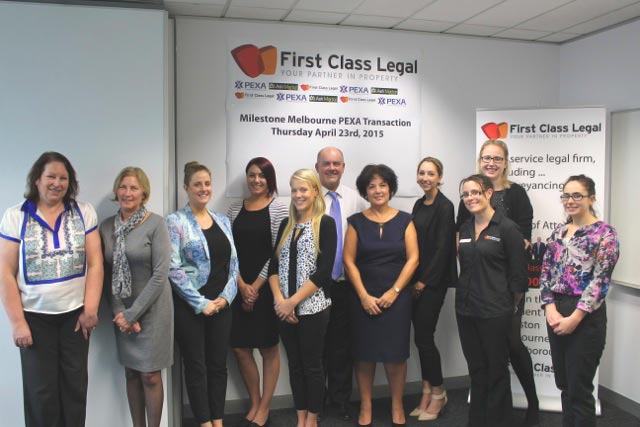 Above: the First Class Legal team